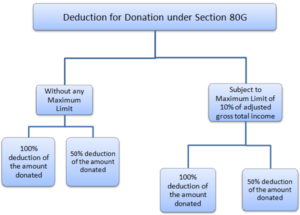 Section 80G offers a tax deduction for donations to certain prescribed funds & charitable organizations.This section is applicable to all assesses, who makes donation, whether HUF, NRI, an individualor or company.For certain funds, the aggregate deduction is limited to 10% of the "Adjusted Gross Total Income". So, in such cases, even if you do make a donation larger than 10% of your Adjusted Gross Total Income, the donation amount eligible for claiming a deduction would be capped at 10% of the Adjusted Gross Total Income.
Documents required
Registered organization.
The NGO should not have any incomes which are not exempted, such as business income.
The Organization is not working for the benefit of particular religious community or caste.
The NGO maintains regular accounts of its receipts & expenditures.
Name, address and status of applicant, the district/ ward circle where assessed/PAN number.
Audited Balance Sheet, Profit& Loss Account or Income& Expenditure Account for the latest year and two preceding years.
Formation documents like trust deed, rules & regulation, memorandum of association etc. and registration certificate, if any.
Name & Addresses of the members.
Record during the 3 years preceding from the date of application.
Particulars of the activities of 3 years preceding the date of application or since inception if the association or institution is less than 3 years old.
Such other information as the association or institution may like to place.
80G registration for NGO & trust, Vaibhav Tripathi, Advocate in Allahabad